Wattuwarpan Wihsel Jesse of Cwtchycats (Finn)

♥ ♥ HCM Echocardiogram - Normal - August 2018 ♥♥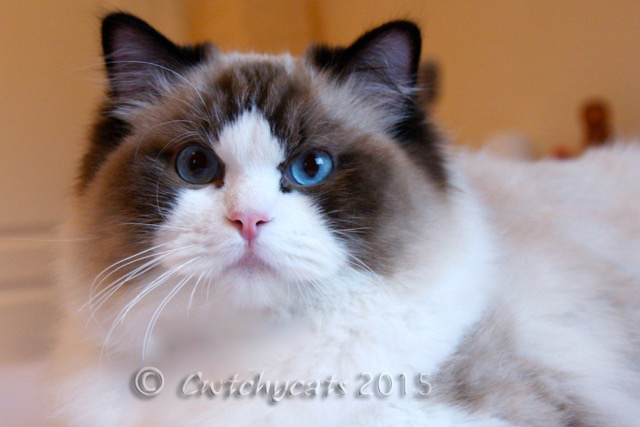 Finn aged 8 Months
Finns Family Tree

Colour: Seal
Pattern: High Mitted Bicolour
Carries: Dilute
Test Results:
FIV - Negative
FeLV - Negative
♥ ♥ HCM Echocardiogram - Normal - August 2018 ♥♥
HCM (DNA) Ragdoll - Negative
HCM (DNA) Maine Coon - Negative
PKD (DNA) - Negative
Blood type - A or AB (Does not carry b)
MyCatDNA Health Checks (Over 40) - All Clear
Finn has now been retired from breeding. He will be looking for a new home around April 2020. For further details and information, please click here.
Finn is an exceptional young man as you can see and is a huge asset to our breeding plans. He has superb type, great boning and the sweetest temperament ever. I saw a photo of him and it was literally love at first sight!
Finn is a huge credit to his breeder, Tiina Parkkila from Wattuwarpaan Cattery in Finland and we are very grateful that she has entrusted him to us. He is constantly padding and purring and just adores other cats and humans in equal measures. He is strictly at closed stud for our girls at Cwtchycat Towers.
Finn is registered with TICA.
Finn has tested 'normal' in a genetic test for the MYBPC3 gene, associated with HCM, also 'normal' for PKD at Langfords Laboratory, Bristol and therefore his kittens will also be clear for these known defective genes (all of our breeding cats have tested negative for these defective genes). He was examined by a feline cardiologist and had an echocardiogram carried out in September 2016 & August 2018. His heart was found to be in perfect health.