LA IW RW SGM Mr Bagpuss Of Cwtchycats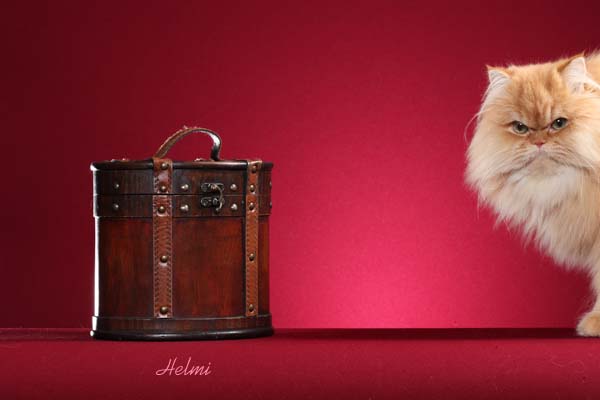 Photo by Helmi Flick
In 2014, Bagpuss achieved an incredible International Win (IW) - he was the 24th Best Household Pet in the world. He is the first Household Pet (HHP) to ever achieve this accomplishment outside of the United States and we are beyond proud of him. As a result of this, and 3 Regional Wins (RW), he was also awarded a Lifetime Achievement (LA) Award - again the first HHP outside of America to achieve this. He was also awarded Best HHP in EW Region for this year!!
For the 2014 / 2015 Season Bagpuss has been awarded another Regional Award as 25th Best Household Pet in EW Region. This boy amazes and amuses us everyday, he's just such a character and is our meeter and greeter at home!
Also in the EW Regions TICA 2012 / 2013 season, he was awarded
2nd Best Household Pet Kitten, and
17th Best Household Pet cat (in just one show)!
What's to say about Bagpuss. He's a red tabby Persian Chinchilla type cat and we absolutely adore the little monkey. He was never meant to come to Cwtchycats, but we fell in love with each other the instant we met. I went to visit a friend, he greeted me at the door, and never left me the entire visit. A photo was duly texted to Chris and the rest as they say is history!!

He's registered with TICA as a Household Pet and simply adores the show environment for 2 reasons -
1) He gets to show off LOTS, which he loves and
2) He gets to spend some time alone with us, meets LOTS of people and gets spoilt!!

He has such an amazing temperament, he's constantly purring and loves life.He's such a character, he has his own Facebook page which you can find here, and adores all the people he meets at shows and out and about. He has an absolute fixation with water and he comes running from anywhere in the house to play with water when he hears a tap go on. He'll jump in the sink, put his head under the tap etc etc!!

Mr Bagpuss did incredibly well at his first adult show, wowing the judges and making many more friends. He finished the weekend as a Quadruple Grand Master which we're incredibly proud of. He has since had the Best Cat required and is now a Supreme Grand Master. Add to that his TWO Regional Awards last year - it's easy to tell how much he enjoys the show environment.

In 2013 he also finished in the top 10 finalists of a nationwide competition run in conjuction with Britains Got Talent by Felix to find Britains Cleverest Cat. What a boy he is!

He spent 2 months in America in late 2013 doing some TICA shows with Sharon at Magnadollz Ragdolls and Ken & Helmi Flick. He loved his busmans' holiday and did very well out there. He now has a fan base in America too!
We missed him very much while he was away and its lovely to have him back home again. He attended his first show since being back in UK in early February and walked away with Best In Show Household Pet and more importantly, some points towards any future awards.
Bapuss is now retired from showing and enjoying a quieter life at home, relaxing and playing Uncle Bagpuss to our Ragdoll kittens, who he helps to educate in the ways of cat!! ;)