Cwtchycats Towers Recommendations
Essentials
Kitten / Cat Food
Please check with us which food your kitten / cat will be on when leaving us. They all have different preference, so we change the food they eat to suit them. Kittens and cats that leave us always go with enough wet and dry food to last them at least a week. If you have any questions about our cats diets, or would like some advise regarding this, please do not hesitate to contact us!


AN ESSENTIAL FOR LONG HAIRED CATS.
All Untangler® pet grooming combs have special rotating teeth that remove tangles easily, 
without the pain of pulling and snagging. Conventional rigid tooth combs pull at your pet's 
coat and tear out hair by the root.



You will find a number of hooded cat litter trays through this link.
We recommended hooded litter trays, as it lessons litter tracking and odours coming from a used tray (although
we recommend scooping litter trays as soon as possible after the tray is used for health and hygiene reasons.
Our kittens have all had access to hooded litter trays including litter trays with doors.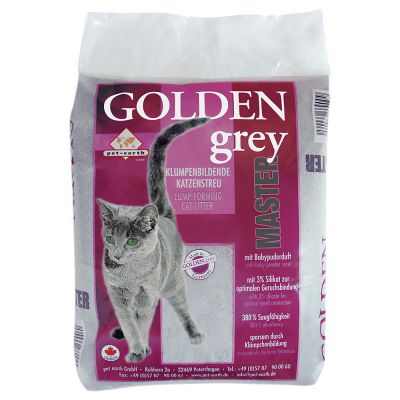 Golden Grey Master Cat Litter 14kg
Golden Grey Master kitty litter made from fine bentonite is very popular among cat owners.

Benefits of Golden Grey Master Cat Litter at a glance:
Bentonite (granules size 12)
With silicate - for even better odour control
With baby powder scent
Clumping litter
380% absorption
Low in dust
The clay used for Golden Grey Master cat litter is a purely natural product, so it is entirely harmless for your
cat. Its superior power (approx. 380% absorbency) eradicates unpleasant smells while the litter gives out
a gentle baby powder scent.
The litter is low in dust production and consists of extra-clumping granules that won't stick to your
kitty's feet and get spread around the house. Golden Grey Master is enriched with silicate which ensures
even better odour control. It is ideal for male cats and multi-cat households.
There is no need to empty the whole tray to clean, you'll only have to pick out the clumps, so Golden Grey is
more economical and easier to use than conventional clay. 14 kg Golden Grey are the equivalent of
approx. 42.2 kg conventional litter!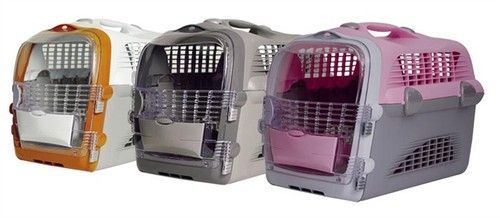 The Catit Design Cabrio Pet Carrier is the luxury 
carrier among travelling crates. It is ideal for transporting cats and toy breed dogs to the 
vet, taking them travelling* or as a cosy den at home.
The entire upper part of the crate can be opened, putting an end to the stress of being put in and taken out 
of the box. An integrated handle on the top guarantees optimum stability. The plastic door is extremely 
handy and easy to open and close. A dual food bowl can be fitted to it through an additional flap, so you 
won't need to open the door when feeding. The box features airing gaps throughout, ensuring optimal air 
supply at all times and preventing build-up of heat.
 Catit Design Cabrio Pet Carrier at a glance:
Size: 51 x 33 x 35 cm (L x W x H)
Colour: White top with warm grey base; orange brace, titanium accents
Suitable for pets: up to 11.3kg (25lb) in weight, and 35cm (13.75in) in height
 Opening top hatch:
Place and remove pet from carrier with ease
Little stress for pet and owner
 Easy fastening:
Door is easily opened and closed with one hand
Safety lock prevents the pet from opening the box from the inside
 Other features:
Complete air supply
Shoulder strap
Small opening in door for access to food bowl
Transparent front door for a clear view
How to choose a pet carrier: Choose a cat carrier based on your cat's adult size. Carriers 
should be high enough to allow the cat to stand up and wide enough and long enough for 
adult-sized cats to lie down and turn around. 
Grooming Items:




Special cat-shaped massage brush from Kong, for blissful fur care and gentle attention
Massage Brush Zoom Groom from Kong will massage your cat's skin and gently clean its coat. 
The shape of the brush makes it especially easy to brush your cat. 
The soft rubber knobs optimally free fur from dead hair and dust.
Most cats will love this massage! Size: ca. 11.4 x 7 x 3 cm

German, high-quality with real rosewood handles and long-lasting blades. The professional groomer's choice throughout Europe. Strips, detangles and removes dead hair all in one go. Superb for stripping winter coat when dropping hairs get too much!
Useful Equipment:

 



Banana leaf - a rediscovered natural material; in many cultures, this material is an important part of 
everyday life. Woven together by hand to create elaborate and beautiful scratching furniture, 
banana leaves embody nature in a unique way. The unique character of this natural material gives Banana 
Leaf furniture a special aesthetic character that appeals to animals and humans alike, 
offering a feeling of both security and relaxation. Round and elegant, warm and natural, these lovely cat 
trees add a touch of luxury to your home.
The Banana-Leaf Cat Tree Paradise is truly a paradise for cats! The lower den has a smaller opening,
making it the perfect place to hide, especially if your cat wants to retreat from other cats.
The upper den has a wider opening for a great view. Both open platforms and the roof of the lower den offer
plenty of space for lounging, playing, and jumping around. The durable, robust scratching posts provide
your cat with the perfect place to scratch to its heart's delight! And the bobbling ball toy is irresistible
to your cat. The included cushions can be washed up to 30 degrees C.

 Paradise Banana-Leaf Cat Tree at a glance:
Dimensions: 103 x 58 x 158 cm (L x W x H)
Base: 78 x 58 x 2.5 cm, centre with sisal covering diameter 40 cm, outer plush border
6 sisal-covered posts, diameter 9 cm:
1 x 58 cm, 1 x 47 cm, 2 x 41 cm, 2 x 30 cm
1 round den: diameter 45 cm, height: 26 cm, entrance diameter: 20 cm
1 open den: diameter 50 cm, Height: 13 cm
1 platform: 54 x 38 x 5 cm (L x W x H)
1 den diameter: 45 cm, height 34 cm, entrance diameter: approx. 35 cm. Cushion: washable up to 30°C

Note:
As with any other product, please check regularly for any damage, loose joints or screws and replace the 
item if it is damaged or defective to avoid potential injury to your pet. 



Lovingly made by hand here at Cwtchycat Towers and given to our new owners as part of our 
comprehensive kitten pack. We are now very proud to be able to offer these quality beds to everybody. They
 are available in 3 sizes: Kitten (13"), Medium (15") and Large (17"). 
They are machine washable and can be shaped to size and dried flat.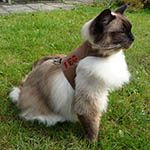 Very high quality hand made cat walking jacket harnesses, each one is custom made to your cats 
measurements for a perfect fit and can optionally have your cats name fitted using chrome 
or sparkle effect heat transfer vinyl in a range of colours.Available in adult and kitten versions, 
the kitten version has longer straps relative to the measurements to extend the upper size limit. 
I would advise a kitten harness for a cat below 8 months of age to ensure it is not outgrown.

Food / Cat Treats:
 






 Tasty Thrive Cat Treats from Petproject are a premium cats snack, made using only fresh fish or meat 
which is freeze-dried to lock in the taste and goodness. Thrive Cat Treats come in a unique re-sealable 
tube and they are a 100 % natural, delicious snack for between meals. These snacks are well accepted 
and your cat will adore them.
Thrive Cat Treats are made from 100% wholesome fish or meat and contains no additives, preservatives
or colours. Your cat will not be able to get enough of them.
Thrive Cat Treats are available in the following flavours:
Fish (15g), Chicken (25g), Beef (18g), Tuna (25g), Liver (25g), Shrimp (18g)
The complex freeze drying process preserves the delicious treats and ensures that all important nutrients
are retained and that the great taste is not affected. Freeze drying is an exceptionally gentle
production method and frequently used by the pharmaceutical industry. British vets
frequently favour Thrive Cat Treats because they are very palatable and well accepted by cats of all breeds.

 Ingredients:
Thrive Cat Treats – Fish: 100% white fish (freeze-dried)
Thrive Cat Treats – Chicken: 100% chicken (freeze-dried)
Thrive Cat Treats – Tuna: 100% tuna (freeze-dried)
Thrive Cat Treats - Beef: 100% Beef (freeze-dried)
Thrive Cat Treats - Liver: 100% Liver (freeze-dried)
Thrive Cat Treats - Shrimp: 100% Shrimp (freeze-dried)

 Feeding recommendation:
Supplement meals with up to four Thrive Cat Treats, twice daily. Fresh drinking water should always
be freely available for your cat.



(not complete, so as a treat only)





Applaws cat food contains only premium natural ingredients.You'll see the difference the minute 
you open the can: the natural consistency will convince you, and your cats will love it!
Applaws Cat Food 6 x 70g features:
In a range of different delicious flavours
No artificial colours, flavours, or preservatives. 
Gluten-free and no added vitamins. 
75% meat
Favourite Toys:



ETHICAL PET COLOURFUL SPRINGS CAT TOY - WIDE - 10 PACK
Lightweight, corkscrew design is easy for cats to pick up, bat and toss, and even catch in the air!
Cats Love To Bat Around Toys That Bounce Around Erratically
Ideal for having on hand whenever playing with cats and kittens is a must!
Their vibrant colors will attract your cat's attention.
Sold in a package of 10 Wide springs. Assorted colors.
Size of each spring is approximately 2.5cm wide x 5cm long
Made Of Plastic And Contains No Metal Wire
BE AWARE - As with all string / cord / fishing rod / Chaser toys, Supervised play ONLY and
Store All toys Away Safely out of reach when not in use.
Never let any cats eat any string or cord type toys. Some cats tend to chew the springs.

The Flying Frenzy Interactive cat toys for fantastic fun play time with your cat!
One of the best cat toys on the world market today! Cats go into a Frenzy for it! If you have not seen
the Flying Frenzy Wand Toy in action with your cat then you are in for a surprise, the feather frenzy
refills spin through the air simulating a flying birdand for your cat look and sound like the real thing!
Handmade in the UK with Top Quality UK sourced materials.
A single flexible rod, 39" in length, made from fibreglass for strength, durability and fully covered with
heat shrink tubing to completely eliminate any possibility of fibreglass splinters. A 1 meter long white
strong cord is attached to the rod's top swivel hook so can be replaced easily with your own cord or
you can buy repair cord packs. The rod comes with one Frenzy feather refill.The feather refills are
made with two pheasant flight feathers which provide a spin and brightly coloured marabou feathers. The
feathers are hot glued into the plastic body of the refill to prevent them being pulled out and the
connection loop has a double swivel to prevent the cord being tangled.
Real Feathers are used. Feathers are sourced in the UK in accordance with the Wildlife & Countryside
Act 1981. Flight feathers are hand plucked not factory plucked ensuring a high quality and are from
British Pheasant Game Birds that are free to lead a natural life before entering the British food chain.
Colour & size of Feather Frenzy refill varies. The feather end is replaceable, so once a cat has had many great
times catching their prey, the supplied feather end can be replaced quickly.
The rod comes coiled, simply uncoil to use & store at full length away from heat and your cat. He or she
will likely try to seek it out and destroy it otherwise!
There are lots other Frenzy different attachments available separately.
Simply clip a different refill on and play away!
Highly Recommended for use in Play therapy for behaviour issues and combating weight issues.
Safety - As with all fishing rod toys, please ensure supervised play at all times and
put away out of your cats reach when not in use. Some cats may chew/eat the string when unsupervised.
As the Flying Frenzy toy is so adored with cats of all ages, it is recommended to keep the toy securely
locked away, your cat will seek it out and destroy it otherwise!
The Frenzy toys are extremely addictive to cats AND owners, make sure to limit play sessions to 5 or
ten minutes at a time so your cat has time to recover - they will likely just carry on
trying to catch it until they drop!

 (Picture coming soon)
Caterian Twists



Another toy handmade with love at Cwtchycat Towers. They are twists of brightly coloured
felt, generously laced with our own special mix of cat attractants and will have your cat or kitten 
rolling around the floor in no time. When finished playing, seal in the supplied bag until
the next playtime.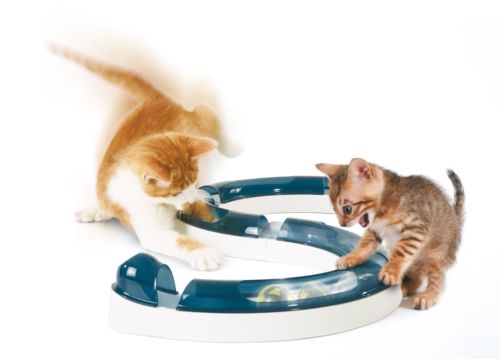 The Catit Design Senses Play Circuit is a toy which your cat will love. This fun game 
was created to stimulate all of your cat's senses. Cats have a highly developed sensory system 
and see and hear things that we cannot even start to imagine. They see and hear things 
which we cannot and they experience the world in a very different way to us.
These well-developed senses are very important when hunting and the Catit Design Senses range 
provides your cat with activity centres and toys which allow it to indulge its extraordinary
 sense of sound, taste, feel and smell as well as satisfying its natural instincts.
Peep hole design: There are peep holes in the track so that your cat can see, nudge and chase the ball.
Grey-green ball: The ball is constructed to attract your cat's attention. Please note: this ball does not
light up. Illuminating balls can be purchased separately.
Circuit can be extended: Additional elements can be used to extend the track.
The Catit Play Circuit at a glance:
Total length approx. 110 cm
6 pieces:
4 play track pieces: 24 x 6 x 5 cm (L x W x H)
2 end pieces: approx. 6.5 x 6 x 5 cm (L x W x H)
Openings:Easy to assemble with a "click" system
Lengthwise openings: approx. 10.5 x 2.5 cm (L x W)
On the extension pieces: 3 x 4 cm (L x W)
On end pieces: diameter 2.5 cm
Grey-green ball (does not light up)

Easy to assemble click-system

Individual elements can connected together

Encourages agility

Satisfies your cat's natural hunting instinct




Quality Hand Made Cat Toys, Various shapes, sizes and colours.
See site for further details 






These colourful, cheerful balls are a great toy for cats and kittens alike. Made from bright rustling foil they 
are perfect for games of chase and they are so light that they simply fly through the air when your cat 
pounces. A great toy to indulge your cat's natural hunting instincts.
The slightly uneven surface means that it is easy for your cat to grab the rustling toy ball and 
throw it around and there is no predicting how or where it will land!
The Rustling Toy Balls at a glance:
Diameter approx. 5 cm
Material: coloured, rustle foil
Pack of 4 balls
Very light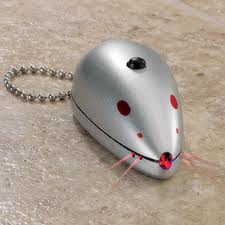 This nifty hi-tech Trixie toy should keep your cat happy for hours, chasing the dancing
 red laser dot wherever it twists and turns. The ultimate playful experience, 
and indispensable for all cat owners! Colour of item may differ from displayed illustration.
Note for correct use of the Trixie Laser Pointer:
Playing for long periods of time with an intangible toy does not make for long-lasting fun. To avoid any 
frustration, the FroliCat Bolt Laser Cat Toy should not be left running for such long periods of time. Treats 
or an extra, physical toy (e.g. a dangler pole toy, ball or mouse toy) should be provided now and then. 
This will increase your kitty's chance of success and ensure a more enjoyable experience chasing after 
the little red dot.
Trixie Catch the Light Laser Pointer at a glance:
Size: approx. 7 x 3 x 2.5 cm (L x W x H)
Red laser
Material: plastic
With metal chain for attaching to keys Includes 3 batteries
Colour may vary from the product photo and cannot be chosen
Hazard class level 2: The accessible laser radiation is only within the visible spectrum range
 [400 nm - 700 nm].
Brief exposure (up to 0.25 sec) is not harmful to the eyes.
Warning: Avoid pointing the laser light towards eyes, as this can cause permanent damage.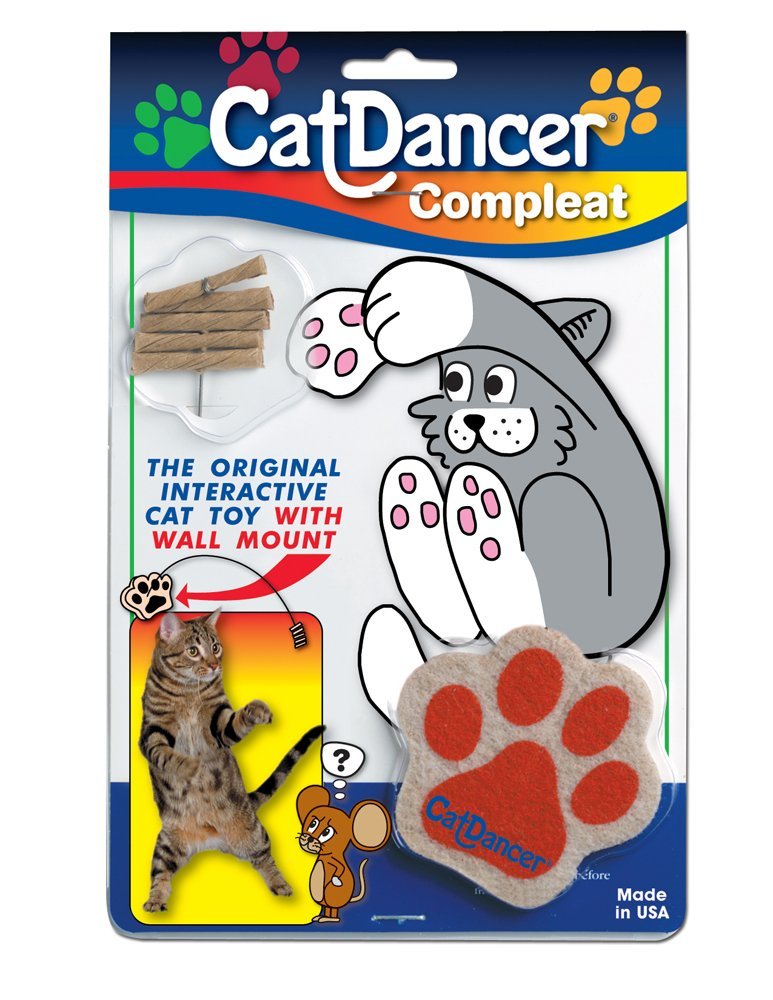 This is a great toy made by cat dancer products, this is the cat dancer compleat
This cat dancer cats love and they go jumping wild to try to catch it.
Cat Dancer is the original interactive cat toy. Spring steel wire and rolled cardboard create an irresistible
lure for cats and great fun for cat lovers.
But this cat dancer compleat is better than the cat dancer because this one comes with a wall mount
where you can stick one side to the wall and your cats can still play with the cat dancer even when your
not home or you just dont have time to play with your cat. So your cats can still have fun when your
not around.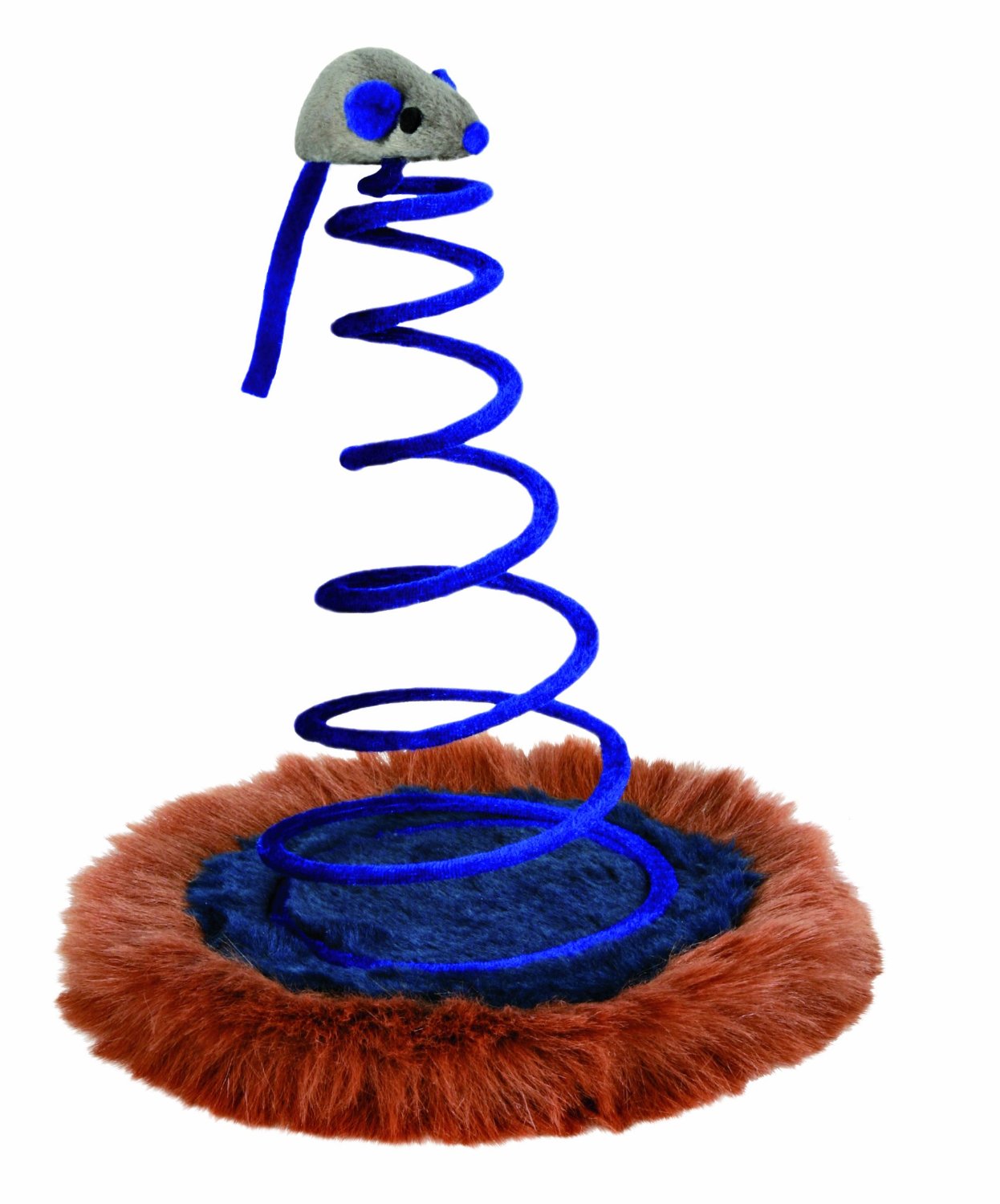 The bouncing and jiggling spring provides hours of fun. Cats want to be busy. This spring, which teeters
in all directions, does so. The mouse shakes and your cat can pull, tug and play with it. The mouse is filled
with catnip and your cat is always excited to play with it again. Plush mouse filled with catnip. Plush cover,
spiral spring
Product Description
Mouse on spring, 20 x 25 cm the mouse moves as soon as the cat touches it & the more the cat pings the more the mouse springs.fun for you purr-fect furry friend