Cwtchycats Towers Recommendations
Although it is tempting to buy cute, small things for your small, new addition, please don't! Ragdolls are a large breed and will quickly outgrow a small cat tree, bed, carrier and litter tray. Invest in something of a good quality, that will last your cat a long time! It really is worth it!
Kitten / Cat Food
Please check with us which food your kitten / cat will be on when leaving us. They all have different preference, so we change the food they eat to suit them. Kittens and cats that leave us always go with enough wet and dry food to last them at least a week. If you have any questions about our cats diets, or would like some advise regarding this, please do not hesitate to contact us! These are some of the foods we feed and recommend, but please check with us before purchasing them! The wet food below are all complete and contain everything a growing kitten needs - but do not feed too much wet food, it can upset small tummies.




The Catit Jumbo is a large, roomy litter box and perfect for larger cat breeds or multi cat households. Your kitten will not stay small for long!
It has a transparent swing flap and an activated carbon filter which helps to prevent nasty smells escaping from the litter box. The tray has an extra high edge so it is absolutely leak-proof.
It has two added extras to make cleaning easy: The hood is removable so the inside is completely accessible and there is a bag anchor at the front where you can secure the waste bag when scooping out the soiled litter.
The hood and tray are quickly and firmly connected with sliding clips and there is an integrated handle on the top.
.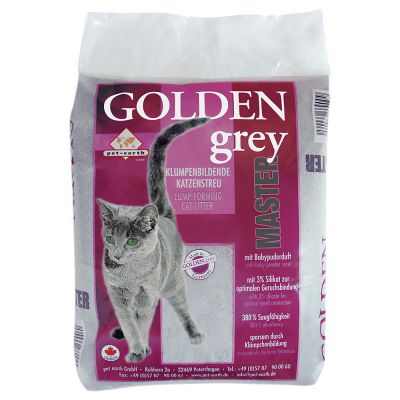 Golden Grey Master Cat Litter 14kg
Golden Grey Master kitty litter made from fine bentonite is very popular among cat owners.

Benefits of Golden Grey Master Cat Litter at a glance:
Bentonite (granules size 12)
With silicate - for even better odour control
With baby powder scent
Clumping litter
380% absorption
Low in dust
The clay used for Golden Grey Master cat litter is a purely natural product, so it is entirely harmless for your
cat. Its superior power (approx. 380% absorbency) eradicates unpleasant smells while the litter gives out
a gentle baby powder scent.
The litter is low in dust production and consists of extra-clumping granules that won't stick to your
kitty's feet and get spread around the house. Golden Grey Master is enriched with silicate which ensures
even better odour control. It is ideal for male cats and multi-cat households.
There is no need to empty the whole tray to clean, you'll only have to pick out the clumps, so Golden Grey is more economical and easier to use than conventional clay. 14 kg Golden Grey are the equivalent of
approx. 42.2 kg conventional litter!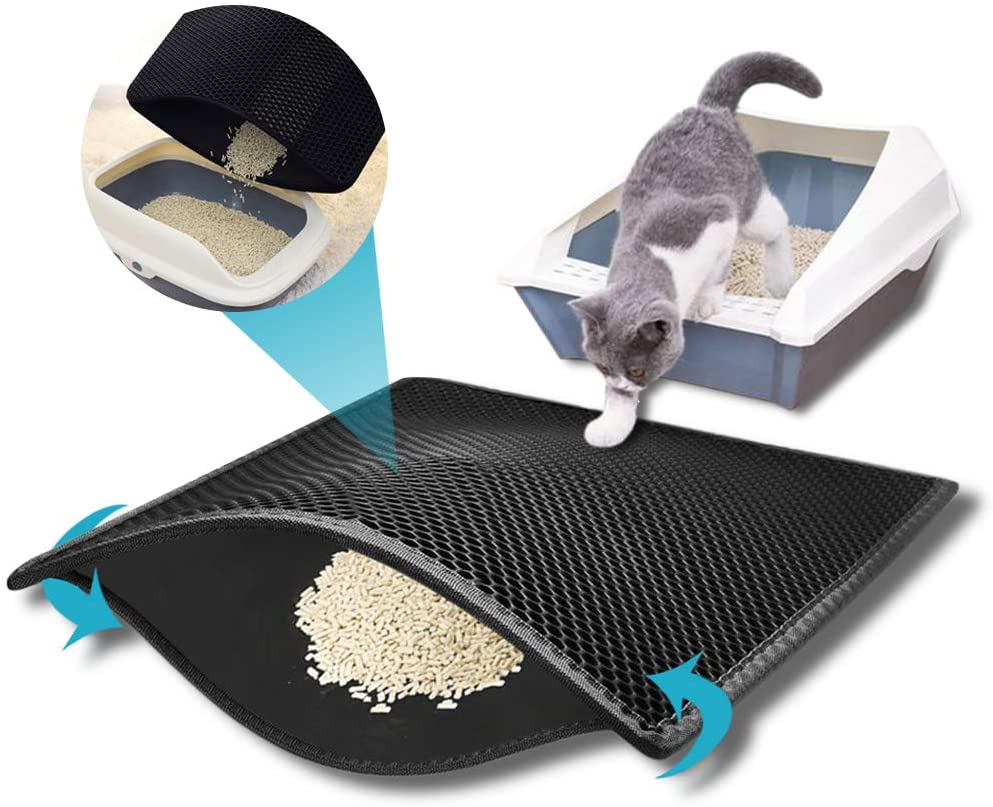 Cat Litter Mat, Honeycomb Double-Layer Design
This mat was a game changer for us! Is catches most of the litter that is freely distrubted when cats jump out of the litter tray! it is also washable in case of accidents!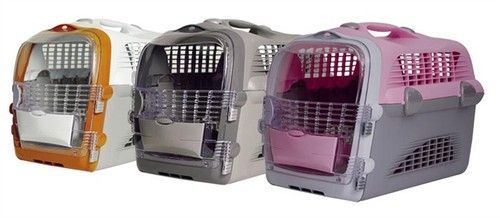 The Catit Cat carrier is a roomy carrier and will be ig enough for when your cat is fully grown! It has a handy top opening as well as the conventional front opening, which can be very handy gfor reluctant kitties during 
a vet visit! 

Tips for training: Help your pet to get used to the carrier by introducing it gradually. Start by letting your pet relax inside the carrier with the door open, then move on to short periods with the door closed. Gradually
 increase the amount of time your pet spends inside the closed carrier, and take your pet on some short test runs in the car before trying a longer journey. The carrier should never be used as a punishment, and 
should provide your animal with a safe, positive place where it can feel comfortable and secure.​​​​​​​

 
Grooming Items:

Ideal for breeds with longer hair. The tapered pins are hand set. Made from hardened steel. These branded grooming combs from 'Greyhound' are nickel plated for durability and rust resistance. The tapered pins go into the coat easily and won't snag the animal's fur.
Stainless Steel, Handmade in the UK
1.2″ Long Combination Teeth – Half Medium and Half Coarse
Ideal for Cats and Dogs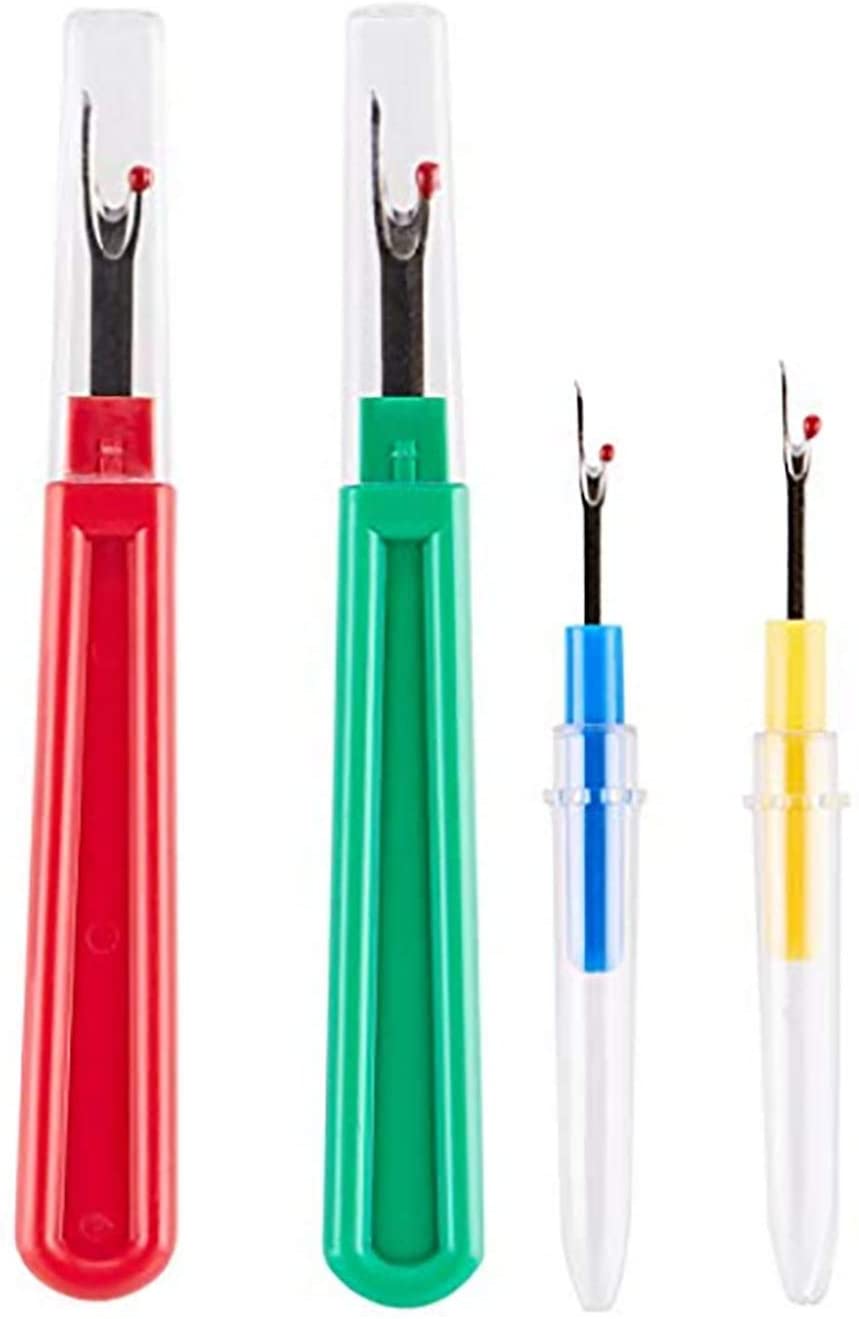 Stitch Ripper

We find these perfect for if your cat / kitten gets the odd matt that you have missed when grooming. They allow you to get close to the skin, but allow you to see when you need to stop, so you don't cut them!






Massage Brush Zoom Groom from KONG will massage your cat's skin and gently clean its coat. The shape of the brush makes it especially easy to brush your cat. The soft rubber knobs optimally free fur from dead 
hair and dust.
Most cats will love this massage!
Size: approx. 11.4 x 7 x 3 cm

German, high-quality with real rosewood handles and long-lasting blades. The professional groomer's choice throughout Europe. Strips, detangles and removes dead hair all in one go. Superb for stripping winter coat when dropping hairs get too much!
Useful Equipment:

 
Cat tree EX-0
(There are many others available - but we don't recommend ones with wicker / wood / rafia beds as they get destroyed by scratching quite quickly).
Base 60 x 60 cm (painted wood, plywood thickness 4.5 cm)
Single hammock (plywood, cover removable for washing)
Double hammock (plywood, covers removable for washing)
Lacquered wooden plate diameter 50 cm, pouf with Velcro, removable for washing
Poles Ø 14 cm: 30 cm, 50 cm, 100 cm
Total height 140 cm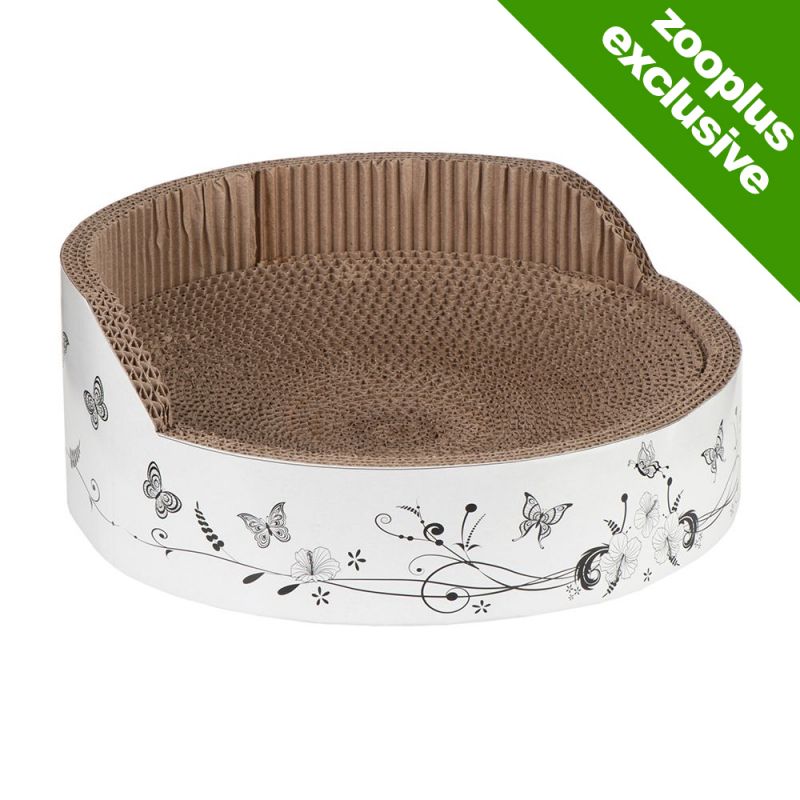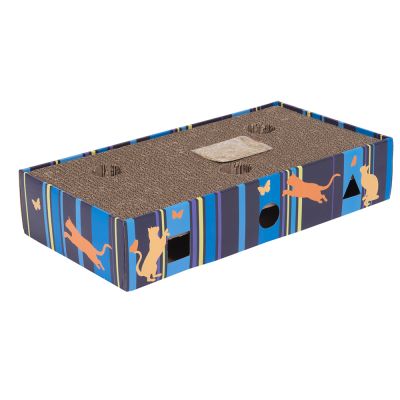 Cardboard Scratch Beds / Toys

These are very inexpensive and we have found our cats and kittens absolutely adore these!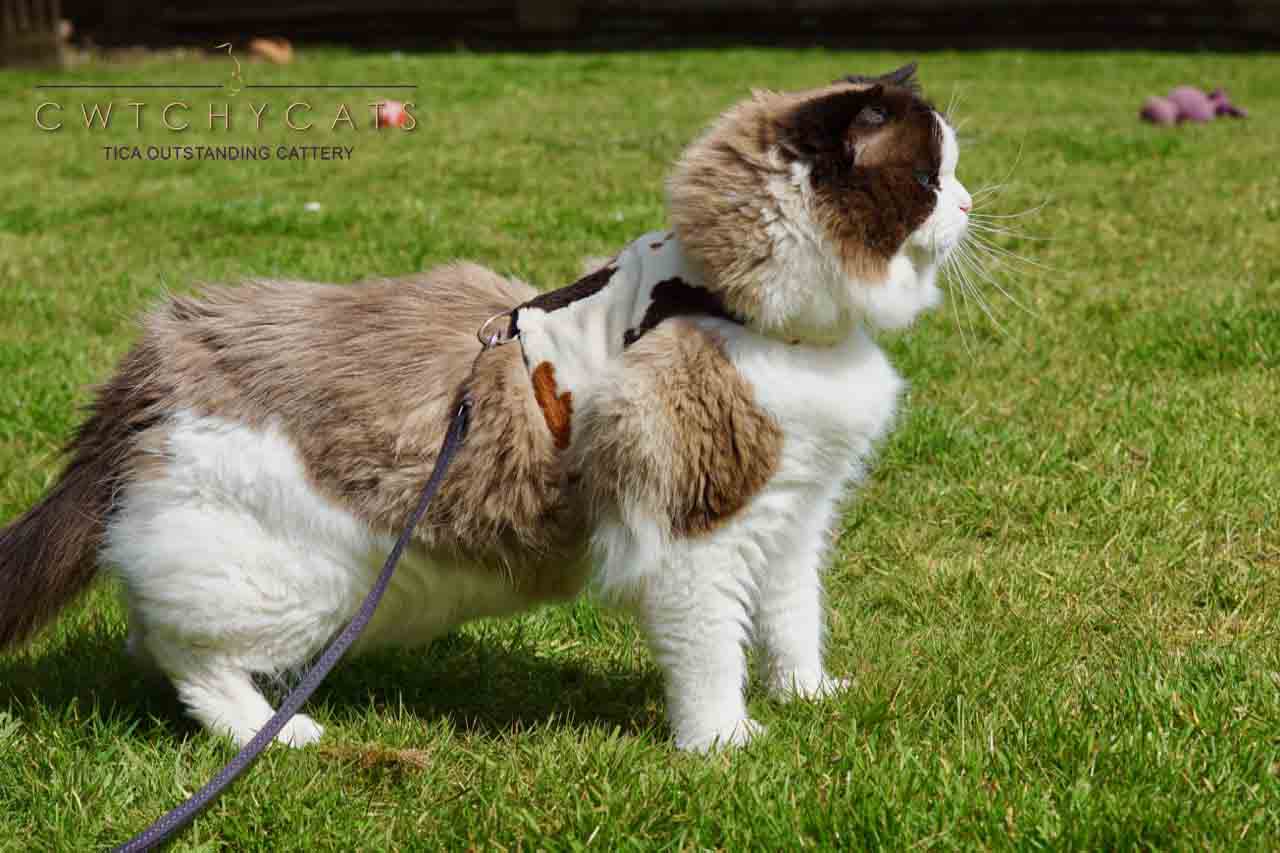 The jackets are made to measure (bespoke) to suit your cats measurements and requirements. We make each jacket using quality fabrics. They fasten securely around the neck and chest with long strips of velcro. All jackets are reversible with black cotton or another choice (as specified by the customer, just make a note on the order).
The jackets are extremely durable, triple sewn for strength, hard wearing and machine washable. They are easy and quick to put on and adjust to your cat. They have a secure, welded steel D-ring with extra reinforced stitching to attach your lead to go for walkies.
Please never leave your cat unattended outside. The jackets are not designed for the cat to be left outside unattended whilst attached to something. Although we cannot guarantee that the jackets are totally escape proof we have worked to get them to be as close as possible. It is important to ensure correct fit and that training is completed before embarking outside. Please contact us if you are unsure how to train your cats to wear these jackets.



Food / Cat Treats:


 

   
Favourite Toys: